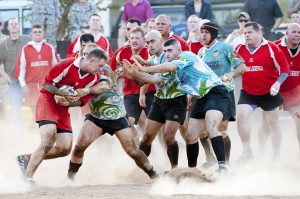 Work is a game. Life is a game. And the harder you play the game, the more fun it is.
A year or two ago, when I was in really good shape, my brother and I would play pickup basketball with our youth group. We never cared about the score; my brother and I made sure that all the players got to handle the ball, regardless of skill level. We never argued over the points, and we cheered when the opposing team made a good play. But we always played to win, because that meant playing FULL OUT, and that was when the game was fun.
Why is it that so many people enjoy watching the Olympics? What is it about these performances that is so emotional? Because something in us responds when we see people playing the game as if their lives depended on it. It's a beautiful thing to see people leave everything on the field, playing their hearts out, playing FULL OUT. The thrill of victory…The agony of defeat…But beautiful to watch either way.
It's the same reason why so many people wait until the end of the season to watch the playoff games. Teams with a lot of heart, playing FULL OUT, giving everything they have. For some reason, human beings were designed to live their lives that way, and when we see it happening, we cry, we laugh, and we cheer.
We also know that those who are playing on that level have invested a lot of work, a lot of training, to get there. They don't become world class overnight. We appreciate the years of dedication and hard work that have gone into achieving their dream, because deep down, secretly, we long to live the same way ourselves.
Why not start today? Can you be world class in your business? Wouldn't it be fun to try?
To your success!


Steve Johnsen is an SEO specialist, marketing strategist, business coach, and the Founder of Cloud Mountain Marketing. He is also the author of the Amazon #1 best-seller, 5 Easy Steps to Make Your Website Your #1 Employee.