If your computer automatically updates Windows or you use Check for Updates to update your computer this week, you might be dead in the water. Instead, you can manually install the Windows updates.
Rich Woods had a warning about the Windows 10 update coming out this Tuesday which is probably worth heeding. You can read his post for the details:
https://www.neowin.net/news/just-stay-away-from-windows-update-on-this-patch-tuesday
For those of you who don't have an IT department, I'll summarize and clarify some of the details.
Most of us are on Windows 10 version 1709 and will soon be updated to Windows 10 version 1803 via Automatic Update (which is the version that has issues). However, if you manually update your PC by installing the latest patches, you can avoid the issues. Here's how to check what version of Windows 10 you are on.
From the start menu, type "About" and open up About your PC.

Scroll down in the About window until you find your version number.

If you already have version 1803 and your computer is working, congratulations! You don't need to do anything. If you have 1709 or earlier and want to avoid the risk of affecting your machine with Automatic Update, read on.
If you have version 1709, you can view the available patches/updates here:
https://support.microsoft.com/en-us/help/4043454/windows-10-windows-server-update-history
There are patches listed on the left. If you want a specific patch, you can open up the page and scroll down to the bottom, there is a section How to get this update with a link to the Microsoft Web Catalog for the item: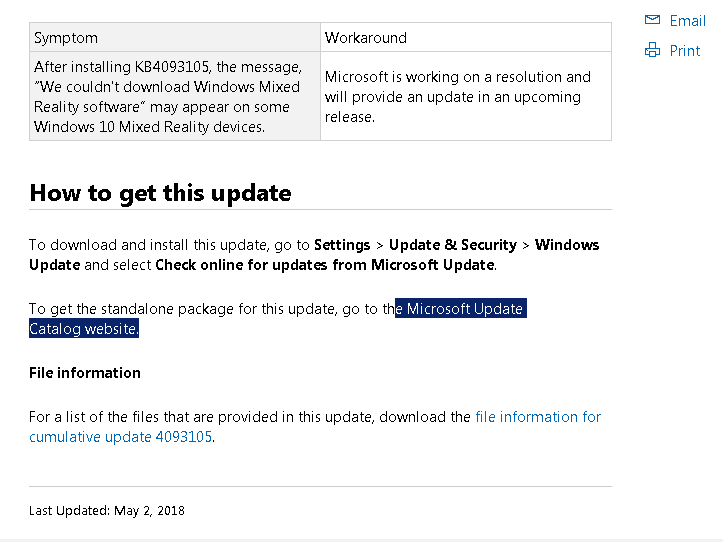 Or, you can simply install the Cumulative Update from this page:
http://www.catalog.update.microsoft.com/Search.aspx?q=KB4093105
Installing updates manually takes a little extra time, but hopefully it helps you avoid some much bigger issues!

Steve Johnsen is a marketing strategist, a business coach, and the Founder of Cloud Mountain Marketing. He is also the author of the Amazon #1 best-seller, 5 Easy Steps to Make Your Website Your #1 Employee.